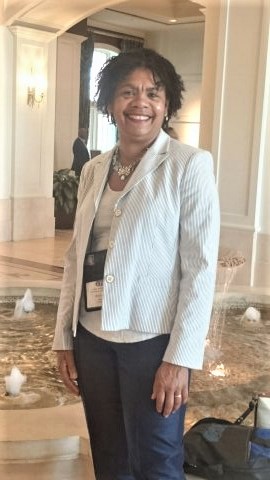 Ms. Miller is a problem solver and a builder of dreams. She has an Honours in Developmental Biology, a Masters in Business Administration and an Arts degree in French. As a result of her education Ms. Miller has a fairly well rounded body of knowledge that she can access when problem solving or charting new paths.
"A life long learner Sunday works at expanding her horizons, building her experience in everything she does." Valerie Bobyk, Executive Director, Family Service Association Even as a child Sunday was looking for ways to help people and to solve problems. She would organize school events, create summer employment opportunites for herself and some of her classmates, and treat everybody with respect and dignity. She has always been interested in the human side of community and business development. As a result of her interests she has been engaged in organizational, people and business development internationally and locally. The development has included training as well as providing organizational leadership on boards and filling the role of Executive Director in community organizations. Ms. Miller believes that community economic development is all about developing people and, therefore, when acting as an Executive Director Ms.Miller focusses on staff development. She believes that this focus increases business and partnership opportunities for the organization as well as provides opportunities for increased future earning potential of the organization's employees.
"As  a man thinketh in his heart so is he." (Proverbs 23:7). Ms. Miller feels that the spiritual impacts business and leadership more than we may think and, therefore, she recognizes the spiritual aspect in her work.  Ms. Miller recognizes that the soul (mind, will and emotions) of a person impacts their level of achievement and how they view the world around them. "You are today where your thoughts have brought  you; you will be tomorrow where your thoughts take you." James Allen In order to have healthy vision one needs a healthy soul and a healthy soul is not automatic given the condition of the world in which we live. Since Ms. Miller believes that her purpose is to assist others in being the best that they can be, at some point her work will touch the spiritual/soul of those she works with which, in turn, impacts the organization. She believes that what will stand the test of time and create legacy is that which is built with the best of the whole person involved.
Testimonial 1

Sunday has consistently demonstrated strong leadership qualifications to establish and meet short and long range objectives. Within the sector in Nova Scotia she is recognized as an effective relationship builder, communicator, facilitator and team builder who can rapidly identify progressive next steps, successfully execute strategic plans, and affect positive change in diverse environments.

Valerie Bobyk, Executive Director (Retired)

Family Service Association
Testimonial 2

Sunday is a strong leader with compassion and the ability to have people feel heard, understood and respected in her presence. I am fortunate to know her and to have had the opportunity to work with her these past ten years at the Halifax Jazz Festival.

 Olga Manzoni, CEC – Avanti Coaching

Past President, Halifax Jazz Festival
Testimonial 3
"I was most impressed by her work ethic and commitment. She has proven to be a team player demonstrating enthusiasm, dedication and a professional attitude towards her work."